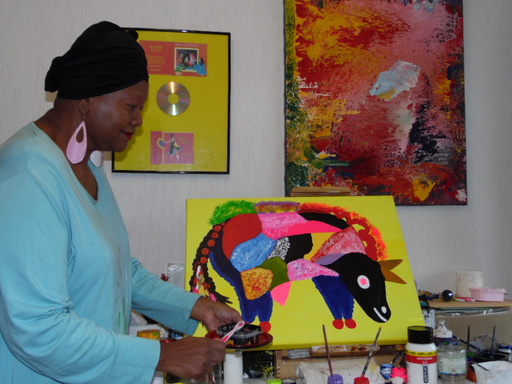 Hellouisa - Maria (Bonaire 1956) has been paintings since 1985 in its own unique style. Modern colorful and happy creations which express the pleasure of the artist herself. With her fresh en special paintings, Hellouisa has conquered her place in the painter's world in no time. Varios glossy magazines in the Netherlands, has published about her. She also has publications in business-editions, newspaper and magazines. Many exhibitions in art galeries, design centers, at multinationals and in (foreign) the hotel industry. Her work can also be seen in various art guides and at social media.
Besides canvas, Hellouisa has painted other objects, such as mural painting, cars and washing-machine. In meanwhile her art is also show up on postcards.
Naturally, she gives interviews, demonstations and presntation and art-workshops at location. Next to that, she gives creative advice and she is active with poetry and writing.
In other words Hellouisa is one thousand feet, offer her a exhibition room, museum, and she fills it.
Hellouisa paints on linen, cotton and occasionaly on board of all sizes. Nowadays, she paints almost thoughtlessy with special compositions and associations. Naturally, she also donate to charties
We would like to welcome you at my site and the many exhibtions.